16 -25 October 2020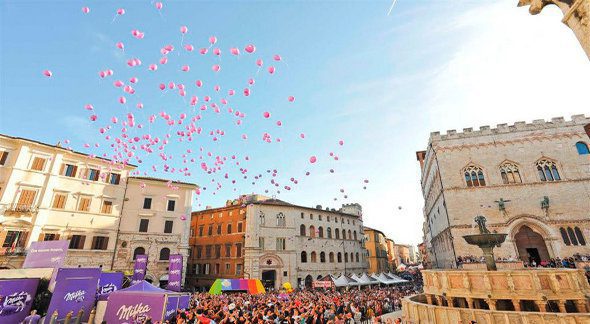 Eurochocolate is the chocolate event for excellence, the most important in Umbria, if not in Italy. The annual event takes place in Perugia every October, when after the summer the consumption of chocolate resumes at full speed.
Protagonists are the traditions of Italian and international chocolatiers, with the laboratories and food stands of chocolate producers that are set up inside the event; moreover, for each edition many themed events, tasting itineraries, shows, cultural initiatives … animates and involves the streets and squares of the historic center of the capital city of Umbria.
A rich and welcoming setting like that of Perugia is one of the key factors in the success of the event, together with the ability to involve the public by making the chocolate world known in a professional and fun way.
The origins of the event date back to 1994, thanks to the creative intuition of the architect Eugenio Guarducci; since then, Eurochocolate has been able to confirm itself year after year, recording a continuous growth of public and success. In the collective imagination, Perugia has now earned the nomination of "City of Chocolate", transforming itself for nine days of the event into a veritable open-air chocolate shop.
For further info: http://www.eurochocolate.net/programma-eurochocolate-2020/