14 – 15 September 2019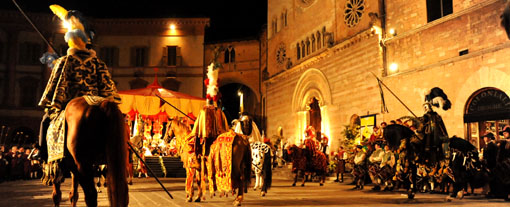 the origins
It is the historical commemoration of the Giostra that was competed during the Carnival of 1613 "to decide whether it was more appropriate for a knight of honour to show loyalty to his prince or to his beautiful and gentle lady". To clear up all doubt it was necessary to use genteel arms, so 5 descendants of 5 noble families challenged each other in the town, in Piazza Grande.
the commemoration
Since 1946, when the first modern Giostra was held, the inhabitants of Foligno have been showing their love towards the prestigious traditions of their town. The fascinating race in the Campo de li Giochi and the enchantment raised by the Festival have the power to attract tourists and to show the charm of the town also thanks to their baroque features.
the Giostra
The tournament in the "Campo de li giochi" is exciting and it delights thousands of spectators. In this Challenge ten knights belonging to ten quarters compete for the Palio. The Giostra della Quintana is definitely the most fascinating and difficult competition in Italy, for this reason it is called the "Olimpiade dei Giochi di Antico Regime" (Historical Olympic Games) . The dual concept horse-knight gallops around a figure-of-eight shaped track that is 754 metres long and defined by some pennants. The statue representing Mars is set exactly in the intersection between the two diagonals shaping the track. The rings hang from its right arm, from a hook placed under a clenched fist. The goal is to spear the three rings which progressively get smaller in the three successive rounds. In the first round the ring is 8 centimetres wide, in the second round it is 6 and in the third one only 5.The tournament is won by the knight who achieves the goal scoring the shortest time and with no penalties.
the festival in Foligno
The Quintana isn't only a competition. The night before the Giostra, there is a parade through the streets of the town centre. There are 800 characters dressed in wonderful baroque costumes that depict precisely the style and the iconography of the historical period. During the two weeks before the Giostra, the town gathers around ten taverns in ten different quarters offering the gastronomy which represents the characteristics of the XVIIth century and enhancing the virtues of our territory. The atmosphere is fascinating and the spectators feel back to the past.
the spectacular emotions
The competitive spirit, the impressive costumes, the scenography and the enthusiasm shown by the quintanari (loyal followers of the Quintana) represent the main features of this event which strikes those who experience it. The Quintana has become the perfect symbol of Umbria as it gathers the excellence of this territory as regards culture, history, wine and food, architecture and commemorative initiatives.
For further info: http://www.quintana.it/quintana-foligno/index.php/it/