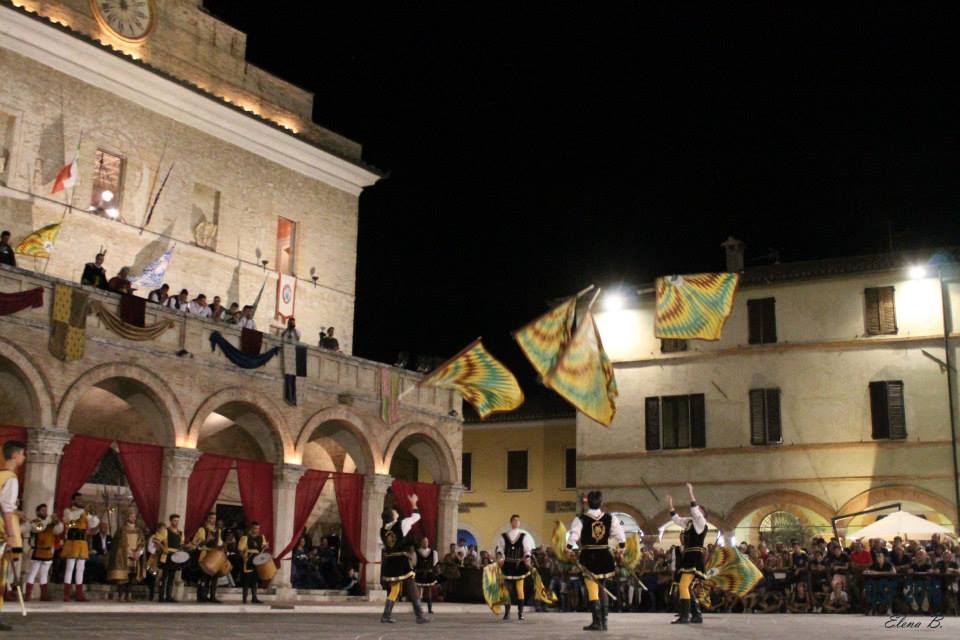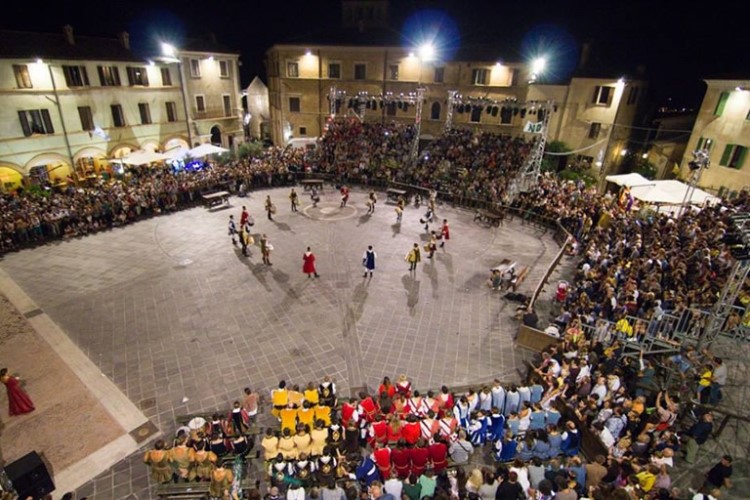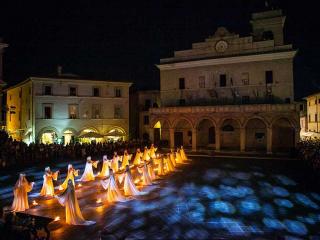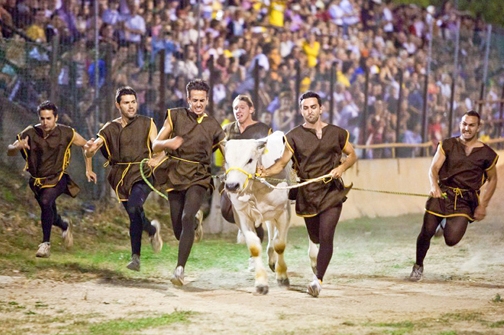 Also this year, from 1 to 19 August, the four quarters of Montefalco are ready to win "Falco D'oro" : with the extraordinary Renaissance feast, to open "Agosto Montefalchese" is the storical commemoration of fuga del bove
Until 19 of August, concerts, shows, culinary tasting will enrich the summer of the railing of Umbria: the four quarter of the town San Agostiono, San Bartolomeo, San Fortunato, and San Francesco will light up the streets and alleys of the city center, in the await when corsa del Bove comes to live in 19 of August.
The exhibitions of the flag and marching bands, the crossbow show, passing on the torch, historical procession and the art & representation of history will transform the splendid town square into an open sky theater.
PROGRAM:
Taverns open 3/19 August
• Wednesday 1 August
At 20.00 Piazza del Comune
Cena "Il Banchetto Rinascimentale"
A cura dell'Ente Fuga del Bove
For Information & bookings 347.9801272
3-4-5 AUGUST PAIPER FESTIVAL:
• Fridayì 3 August
At 21.00 Claudio Casalini: La storia del Piper
Festival Inaguration
AT 21.30 Piazza del Comune
CONCERTO PUPO
Presenta Antonio Mezzancella e Manuela Mariangeli
• Saturday 4 August
AT 21.30 Piazza del Comune
Gibson Brothers in concerto
Dj set e Silent Disco
• Sunday 5 August
At 21.30 Piazza del Comune
PAIPER FESTIVAL
"Le Stelle in passerella"
Fashion Show by Ambra Cenci
Special guest Eleonora Pieroni
• Mondau 6 August
At 21.30 Piazza del Comune
Concert Pino Daniele Project
FROM MONDAY 6 TO WEDNESDAY 8
"METTIAMOCI LA FACCIA" Face painting for children
from 21.00 in Piazza del Comune
"Truccabimbi" a cura dei volontari Croce Rossa Italiana del Comitato locale di Spoleto.
• Tuesday 7 August
At 21.30 Piazza del Comune
Concert: Mother's Garage Band
• Wednesday 8 August
Concert: Swingle Kings
• Thursday 9 August
Concert: THE BLUE BAND
•Friday 10 August
From 17.30 to 19.00 Piazza del Comune
Montefalco Latino
From 20.00 per le vie del centro storico
Calici di Stelle, Sagrantino Sotto le Stelle
Wine tasting points, street artists, and street band :Funking Band
In collaboration with Vini Montefalco Consortium
• Saturday 11 August
at 21.30 Piazza del Comune
PERUGIA BIG BAND
• Sunday 12 August
At 21,30 Piazza del Comune
Gare Tamburini e Sbandieratori
Organizzazione a cura dell'Ente fuga del Bove
• Monday 13 August
At 21,30 Piazza del Comune
"Astri e Metalli"
The show performs by the 4 quarters
Organizzed by 'Ente fuga del Bove
• Martedì 14 Agosto
Ore 21,30 Piazza del Comune
Gara Balestra e Staffetta
Organizzazione a cura dell'Ente fuga del Bove
• Wednesday 15 August
At 21.30 Piazza del Comune
Ferragosto Popparty
Alan Sorrenti in Concert, Antonio Mezzancella and the dancers from TV show "I migliori anni"
Festa conclusiva del Paiper Festival a cura della Paiper Family
Festa di Santa Chiara della Croce
Thursday 16 August
at 21,30 Vie del Centro Storico
Processione delle Lampade
Friday 17 August
At 11,00
Chiesa di Santa Chiara
S. Messa Solenne con l'offerta dell'olio per la lampada votiva da parte del Comune di Sant'Anatolia di Narco.
Friday 17 August
At 21.30
Piazza del Comune
The SUN in concert
Ore 23,30
SPETTACOLO PIROTECNICO
by. Comitato Festeggiamenti S. Chiara
• Saturday 18 August
at 9.00
in the city center
Fiera di Santa Chiara
at 21.30 Piazza del Comune
Concert of SIMONE GRASSI SWINGSET
Evento di Estemporanea d'arte a cura dell'Ass.ne Un Sorriso per TE
•Sunday 19 August
At 21,30 Parcheggio Viale della Vittoria
Corsa dei Bovi
Organized by 'Ente fuga del Bove